Are You Ready to
Take the Next Step?
At RealCheck Inspections, we're proud to offer a top-of-the-line home inspection to ensure that you're ready for your prospective home, and that your prospective home is ready for you. We take our time going up and down the checklist, meticulously looking over each accessible component to diagnose existing issues that you must be aware of in order to make an informed decision. By the time we're finished, we'll know for a fact whether or not your future home is safe and sound all around—and if it's not, we'll give you the in-depth knowledge needed to obtain assurances from the seller that will allow you to continue the home-buying process with your peace of mind intact.
Helping Others Is
Our Greatest Strength
Passionate About Our Work
We are unbelievably passionate about this work, relishing each moment that we get to spend building relationships with our clients and helping families move forward with the most meaningful investment of their lives.
Informative Home Inspections
Our home inspections pay dividends for clients seeking to secure their personal safety and prolonged financial protection when buying a home—100% revealing the home's existing condition so that you don't have to worry about expecting the unexpected.
Se Habla Español
As a Spanish-English bilingual business, we are able to better accommodate the diverse communities of Central Florida.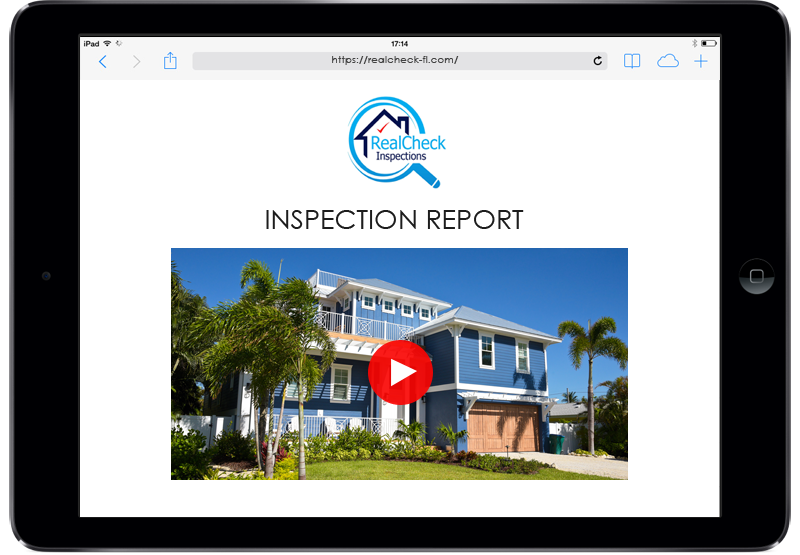 Comprehensive
Inspection Reports
Go ahead and check your email the next day after your home inspection—because your comprehensive inspection report will have already been delivered, or will soon be on its way. Our unbiased and honest evaluations of each inspected component will exponentially improve your understanding of the home's condition, with videos and photographs included to clear up possible confusion. Several diagnostic tools and technologies are utilized during the inspection to create a more well-rounded picture of what to expect from the home, and you can count on us to thoroughly explain any safety issues or other defects that were discovered during that process.
Proudly Serving the
Orlando Area
We serve the communities of Orlando and the surrounding areas, offering a full listing of home inspections to Orange County, Seminole County, Osceola County, Polk County, Sumter County, Volusia County, and Brevard County.
Hablo español
RealCheck Inspections
At RealCheck Inspections, we offer a professional home inspection that stands with Florida's very best, channeling our hands-on experience in the construction industry to provide a thorough and factual account of a home's existing strengths and weaknesses. Contact us today to request an inspection.
Discounted pricing is available when additional services are scheduled at the same time as a full home inspection. Contact us for more information.
We accept online payments.
Get In Touch
Request Your Inspection Today!